Beyond The Surface

While the dimensions and textures of his handmade 24K gold and gemstone jewelry is the epitome of 3D perfection, designer Yaakov Hillel actually spent more of his youth and early career on flat surfaces.

For three generations, his family specialized in another one of Turkey's most important design industries: textiles.

The family's textile business specialized in printed fabrics, many of which were bought and used in apparel designs.
"Working with these designs, which were often inspired by florals, patterns and other motifs, gave me a keen sense of how important details are: Yaakov says.
Hillel and his family had great sources of inspiration all around them. 'Turkey is a treasure trove of design inspiration. You have the mix of Asia, Europe and, of course, ancient Anatolian culture that still is so much a part of Turkish design.
'Add in Byzantine, then the Ottoman Empire. It's difficult not to be inspired in such an environment.'
Hillel became almost as if a curator of printed design for his family's company. But walking through the Grand Bazaar in Istanbul several times a day, Yaakov became fascinated with jewelry craftsmen who created miniature masterpieces by hand.
'I eventually decided to use my design experience in a new field and jewelry, so much a part of life in Istanbul, seemed like a natural extension to me.

"Turkey is a treasure trove of inspiration -- a mix of Asia, Europe and, of course, ancient Anatolian culture that's still a part of Turkish design."

PHILOSOPHY
NATURE AND NURTURE
As Yaakov turned his interest from surface design to actual creations in three dimensions, he began working with designers whose work was meticulously created by hand in small ateliers of Istanbul.
After years of dealing with details on flat surfaces, Yaakov was fascinated by how jewelry was made. 'Everything is hand carved, not created from castings. Every piece has a very human aspect to it. Like nature, it isn't perfect.'
The hammering and details created by the artisan's tools makes each piece special,' he says.

Quite a departure from textiles where yard after yard had to be repeated perfectly.
Yaakov found some small designers and using his business acumen from the textile world, helped them to develop and market their jewelry designs on an international level.

Soon he was traveling to the world's major fine jewelry trade shows in Europe, Asia and North America, eventually becoming international sales manager for some rising designers.
Anxious to strike out on his own, he formed his own company.
'I knew and worked with the best craftsmen in Turkey for years. I realized I had ideas that would translate into my own collection. I wanted them to have the same high quality handmade techniques, but I wanted them to be special yet also wearable. That's something that I learned from the textile side. Designs have to not only be beautiful but also comfortable and casual enough to be worn everyday'

"Every piece has a very human aspect to it. Like nature, it isn't perfect."

NATURALLY MARVELOUS
Hillel doesn't think his jewelry, made from pure gold, oxidized silver and precious gemstones, is perfect. 'My inspirations come from nature. Is a free perfect? its bark becomes weathered, even scarred as it ages, yet it is still a beautiful free, nor
Using techniques that date back to height of the ancient Anatolian culture, Hind's jewelry is all hand carved, hammered and finished by hand. While his designs are made by the best artisans that can be found in Istanbul, they aren't perfectly symmetrical.
'That's because they mirror nature. Most of my designs are inspired by nature: fallen leaves, seed and pods, pebbles or flowers and their buds. If you think about nature, nothing is symmetrical,' Yaakov says.

Each one of his designs is different, just like every one of the women who wear them.
The 24k or pure gold Hillel uses in his designs is also an inspiration. The color of pure gold is like the sunshine you find in Turkey and the Mediterranean.'
While pure gold can be a soft metal, Anatolian craftsmen created techniques developed over the centuries that hardened the golden yellow metal preventing it from bending or losing its shape.
'We're using the same technique that have been proven for thousands of years. The finishing requires a master's touch, we don't polish so hard that the craftsmen's details fade away.'

"The color of pure gold is like the sunshine you find in Turkey and the Mediterranean."

He also likes the grayish-black of oxidized silver which also lends a more naturalistic element to his pieces. He has incorporated wood and leather into his designs, too.
While Hillel favors traditional gemstones, such as diamonds, rubies, sapphires, emeralds, he prefers rose-cuts, a longstanding favorite of Asia Minor.
To make some of his designs even more special, Yaakov searches for antiquities or rarities that he incorporates into the pieces, like rare micro mosaics, 18th century enamels and porcelains found at auction. 'I've found some great pieces that were originally on French pill boxes or brooches.'
Yaakov incorporates antiquities or rarities into his pieces that "usually depict nature themes."

What are the must haves from your collections? The one of a kind pieces, if one can afford them, are like an exceptional painting that you would add to a collection.
What do you believe are some of the designers or brands your clients might wear?
Similar to the designers I like. They want to look distinctive but they don't necessarily go to the extreme. Fashion is cyclical and they know that looks eventually return.
What are five items every woman should have in her wardrobe?
1. A great leather belt, preferably made by Mediterranean designers.
2. An everyday handbag, similarly crafted like the belt by artisans.
3. An interesting minaudiere or other evening bag that you could pin brooches or other jewelry to just like you could to clothing.
4. Sapphire jewelry, especially with yellow sapphires. They are perfect with any color
5. Interesting and unusual hair accessories that help you change or update your hair styles.

What other designers you admire?
I tend to like Italian designers: Gianfranco Ferre, Versace, Trussardi.

Any travel plans? I travel to Turkey for business and for inspiration. One of my favorite places to relax is Bodrum, located in southern Turkey. I like it off season, even in the winter. Perfect to relax and chill.
What's your personal favorite piece of jewelry? Probably a hamsa which is worn for protection and has spiritual and superstitious meanings all around the Mediterranean. Even if you don't wear one, I often keep an image in my wallet, homes, or even cars to ward off the 'evil eye.'
What from your collection would make an ideal gift? One of the 24 karat yellow gold tube necklaces or bracelets with tiny faceted beads in sapphire or emerald.
Who is your style or fashion icon?
My grandmother! She was an exceptional woman with a great style sense. She loved jewelry and put her collection in special boxes that fascinated me. I always wanted fry to play with her jewelry when I was a child.
What's the best gift you ever received?
Cars. My father gave me a red Ferrari when I was four and I'll never forget it. When I was old enough, I got a red Alfa Romeo convertible -- the best.
Who do you think has the best style? Demi Moore. She not only has great style but also a great character. And Angelina Jolie who knows how to wear jewelry so well.

How would you personally define what a jewel is? A woman who recognizes that jewelry is an integral part of her personal style -- just as important as what fashions she wears. To her, there is no fashion without jewelry.

Collection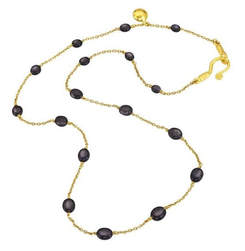 DELICATO
Designer Yaakov Hillel tiptoes into his Delicato collection, a mix of his signature 24K gold and delicate, pebble-like gemstones. As with all his designs, the jewelry is inspired by his homeland, Turkey, the point where Asia and Europe meet. This East-meets-West flavor can be seen in these pieces that borrow from the best of both.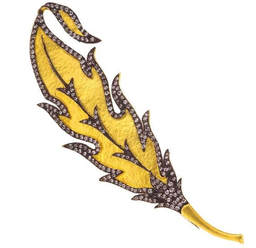 LEAVES
Turkish designer Yaakov Hillel says his inspiration for his 24K yellow gold designs often come from nature. Whether it's the rustling leaves of the trees in an Anatolian forest or the expertly rendered florals of a Turkish tapestry, leaves, flowers and seeds serve as models for the beautifully, hand-finishes elements in this lush collection.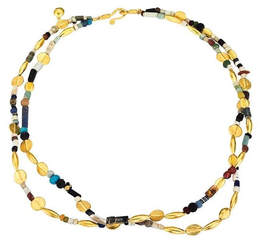 PASSIFLORA
The unmistakable feeling of luxury permeates Yaakov Hillel's Passiflora Collection. Inspired by his homeland of Turkey and his love of the nature there, this collection features the best of Yaakov's favorite elements: pebble-like gemstones in Mediterranean colors and 24K yellow gold in organic shapes drawn from nature. It's a drop-dead combination, sure to make you swoon.

SAMSON
Strands of supple leather, bound together like a bunch of vines, are held together with 24K yellow gold to create a casual yet elegant look in the Yaakov Hinds Samson bracelet collection. They are deceptively simple. A bold yet comfortable way to wear 24K gold, these bracelets can be dressed up or worn with your favorite jeans. And like a great pair of jeans, these bracelets only get better with wear.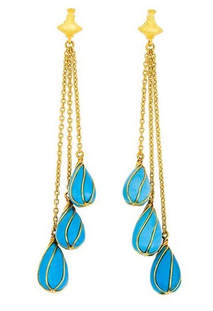 TURQ
Designer Yaakov Hillel draws his inspiration from nature, especially the lovely Mediterranean climate of his homeland in Turkey. In this collection, the inspiration is multifold: the beautiful turquoise stones seem like the azure colored Mediterranean and the 24K gold seems as warm and golden as the Mediterranean sun. The pairing is like a fantasy realized.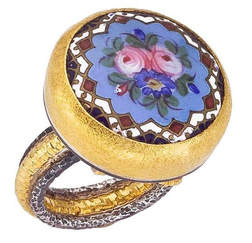 ONE OF A KIND
Designer Yaakov Hillel has been wandering the Grand Bazaar in Istanbul since he was a child. Happening upon special designs, such as a miniature mosaic or a top from a centuries old porcelain pillbox, Yaakov takes these tiny treasures and re-images them into 21st century jewelry. Each is as distinctive as its wearer -- and just as memorable.

Haute Couture Designs